Welcome to Carson Valley Meats! Download your free Summer Grilling Recipe Book then stay and look around!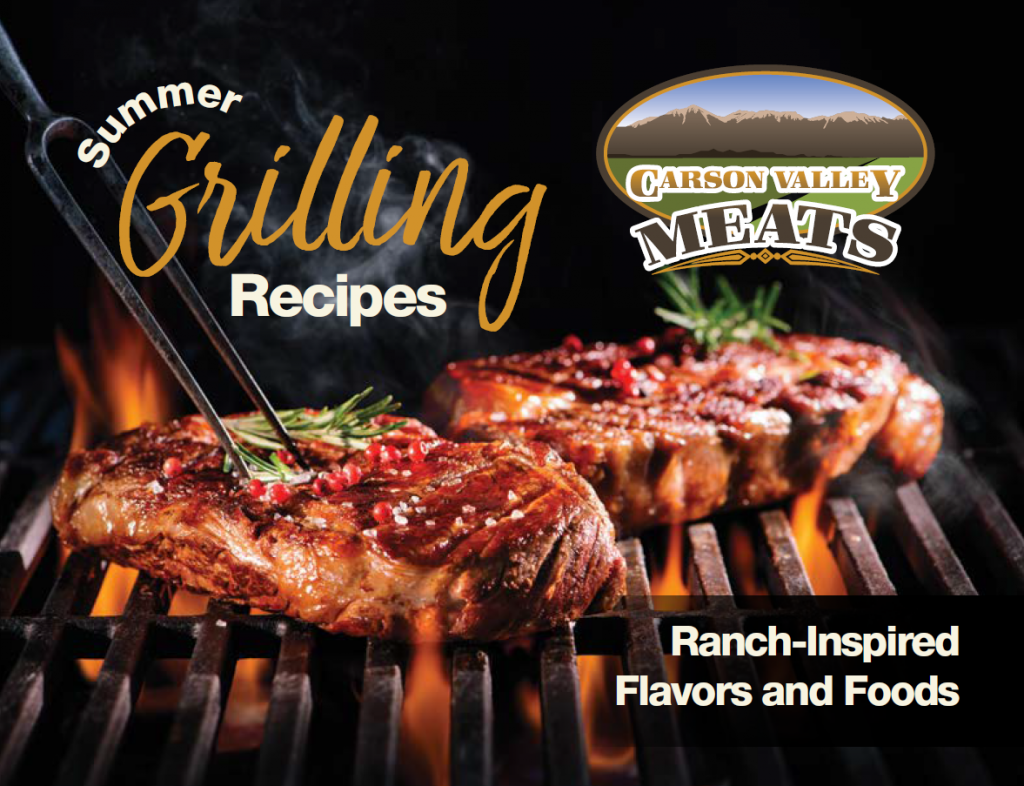 What you'll find in this volume of our Ranch-Inspired Flavors and Foods, Summer Grilling Recipes
This summer, we're sharing Karin's favorite summer grilling recipes for gathering with family and friends! Like a good old-fashioned barbecue party, this book contains recipes like Karin's potato salad, and her grandmother's farm-fresh strawberry ice-cream recipe, and ranch-house secrets for How to Grill the Best Hamburger.
"When I was a girl, I got to crank the ice cream maker," Karin said. "It was my favorite thing to do."
Nowadays, you can have an ice cream maker that cranks itself, but the recipe still works!
Beef jerky – perfect for summer snacking
We've also included a recipe for beef jerky, which is the perfect snack for summertime hikes, full of flavor and protein. Our recipe is a spicy one, but you can leave out the peppers and it'll still be just fine!
Another favorite, The Best Baked Beans Ever, calls on the rich and smoky flavor of ranch-fresh bacon. Check out our Sinclair Family Farm bacon in our Ranch Box online store. Slow cook that bacon in the oven for tender, juicy, flavorful bacon!
Flavors from our Ranch Box partners – perfect for summer grilling
We've also included a Beer and Honey Marinade for you. Use it on pork chops (you'll find those in the store too!) and toss them on the grill. The honey will caramelize and your chops will come out deliciously tender! Check out our selection of Misbeehaven Farm infused honeys – we like Garlic Infused for this recipe and pop open an Alibi Pale Ale, brewed in Incline Village and available in our online store for a fuller marinade, and then save one for yourself while you're flipping those chops.
Coffee Rubbed Steak is another favorite – use Alpen Sierra Coffee, roasted right here in the Carson Valley, for full-bodied flavor, and brew some up in the morning for a rich wake-up call.
And don't forget the bread!
Finally, if you really just want a good sandwich, but you want to up your game, check out our Backed Deli Focaccia Sandwich recipe. Order the focaccia bread iin our store, a fan favorite of Chef Mark Estee's Liberty Food and Wine in Reno for the best focaccia bread you've ever tasted. Mark told us it's so popular, they're working double-time to keep up with the orders!
Here's the best part! While you're perusing the store, grab an extra pound of ground beef on us – we're celebrating our Ranch Box first anniversary! Use the code YEAR1 in your order notes and we'll throw in a free pound of ground beef, just in time for your summer grilling recipes!
Thank you again for joining the Carson Valley Meats family. We pride ourselves on our lovingly raised, locally sourced meats. Our Ranch Box partners pour the same love and care into all of their products, and we are grateful to them for partnering with us. We know you won't be disappointed!