News from the historic Storke Dairy on our Ranch Box Anniversary!
We are celebrating our three-year Ranch Box Anniversary of bringing tons of high-quality meats and other products from the local area together in our monthly Ranch Boxes. Bringing our passion into your kitchen has been our greatest success of these last three years and we are so thankful for each customer we have earned and each order you all have placed.
Thank you from the bottom of our hearts for your support!
We are so very fortunate and grateful to our local producers – 13 at last count! – who provide the best in regionally produced food and farm fresh products! If you haven't tried something from each of them, you are missing out! Here's the list – visit the links to learn more about these wonderful producers!
Where's the beef? In Nevada, of course!
Our cows loooooove the pastures at the Historic Storke Dairy. The grass is heavy in the main pasture and they are loving it! We've gotten our hay fields cut! Expecting another cutting or two at the Dairy. It's an awesome feeling to feed our livestock hay from the fields we've been tending all year long. With the heat, we're frequently checking the water. Cool clean water is of the utmost importance to keep the animals as comfortable as possible, and checking the water often to encourage them to drink.
Our beef is Nevada-raised and Nevada-processed, as of now.
Due to the shortage of processors in Northern Nevada, we are selling more 
quarter beef
 and 
half beef shares
, 
whole hog shares
 and 
whole lamb shares
 than individual cuts. We still have plenty of those, but it's getting more difficult to get what we want and some producers are having to go out of state for processing. It sure isn't for lack of trying!
https://www.localline.ca/carson-valley-meats
Like your steak a little extra?
Check out the 
Mombo Sauce from Tillie's Nevada
on our website! This grilling sauce is a well-balanced blend of sweet peppers, tangy spices and seasoning. You first taste the sweet, then the zesty unfolds with a bit of heat at the finish. Try it on our 
beef T-Bone steak
 or our 
beef top sirloin steak 
– pasture-raised beef fed through rotational grazing, right here in Nevada at the Historic Storke Dairy.
To thank you for your support, here's our Ranch Box anniversary edition of our Summer Recipe Book!
While we are working on our new recipe books, this Summer Recipe Book is one of our favorites. In this compilation of our best summer recipes from the last three years, you'll find recipes for Karin's potato salad, her grandmother's farm-fresh strawberry ice cream, and a whole lot more.
Click the button below to download this soon-to-be-retired recipe book!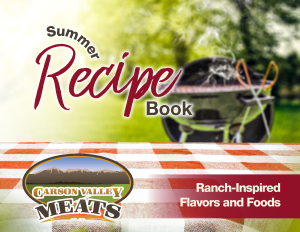 Don't Miss Out!
Download our Recipe Book Today!